Posted by Zest Lighting on 8th Mar 2021
The Kitchen is one of the busiest hubs in a home where activities such as meal preparation, eating, drinking, and socializing take place. These tasks require good lighting, so it is essential for this space to be well lit.
Pendant lights have become increasingly popular in kitchen design these days. It is a versatile lighting fixture that provides sufficient illumination for areas that need a concentrated amount of light, such as your kitchen island. Plus, it is a great way to add ambiance and personality to this hardworking space.
With plenty of kitchen island pendant lights to choose from, shopping for the right fixture can be challenging. Here are some tips you need to keep in mind before you can start narrowing down your pendant light selection and proceed to shopping.
Get the right proportion – To get the right look, it is important to space your pendants correctly and hang them at an appropriate height. Of course, you don't want your pendants to hang so low that it obstructs your view.
Ideally, pendants should be hung 12" to 20" below an eight-foot ceiling. If your ceiling is higher, you just need to add 3 inches for every additional foot of ceiling height.
For even distribution of light across the total length of your island, it is recommended to install your pendant light 30 - 36 inches between the surface of the table and the bottom of the lighting fixture.
Size and quantity – the next step in choosing the right pendant light for your kitchen island is to determine the size of your fixture. You may opt for one quite large pendant that is big enough to create a bold and dramatic atmosphere in your kitchen or you may consider small clear fixtures for a more subtle effect on the island surface. If you prefer to hang pendant lights in a group, calculate the space between the fixture and figure out if you can fit two or three fixtures above your island. Measure the overall length of your kitchen island. You want to allow 24" to 34" between the fixture and it's a good idea to have almost 12" of space from the ends of the island as well.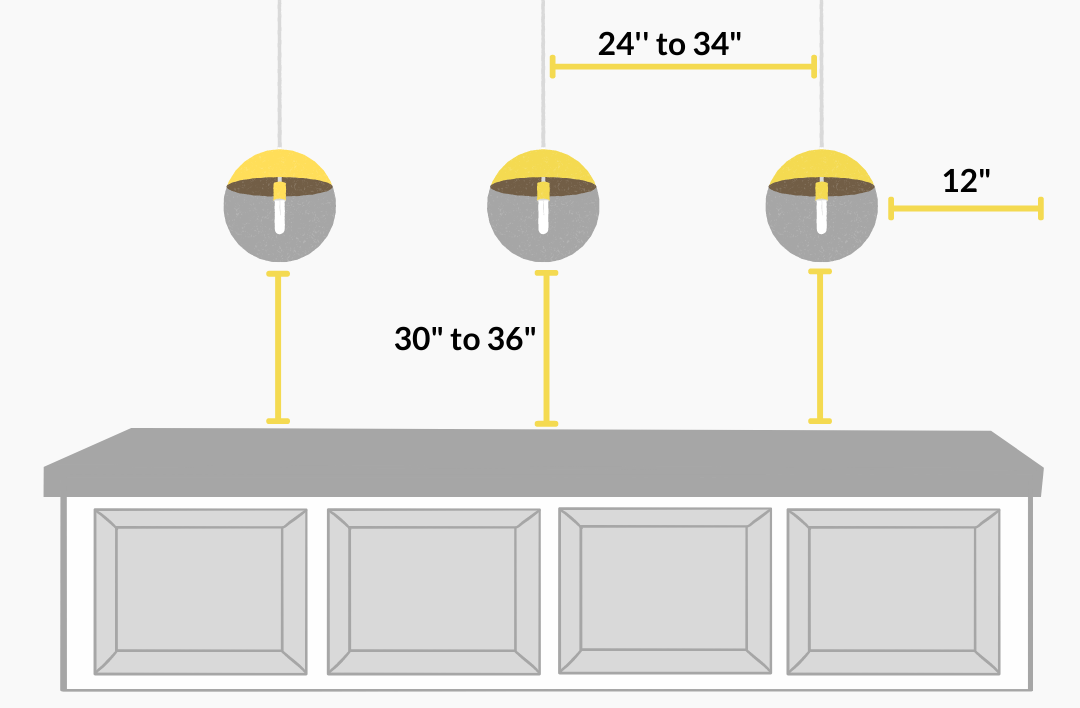 The type of Pendant light - while pendant lighting tends to be more decorative, you must choose the pendant that provides functionality. Thus, knowing the right type of pendant light will help you determine what fixture will look best on your kitchen island.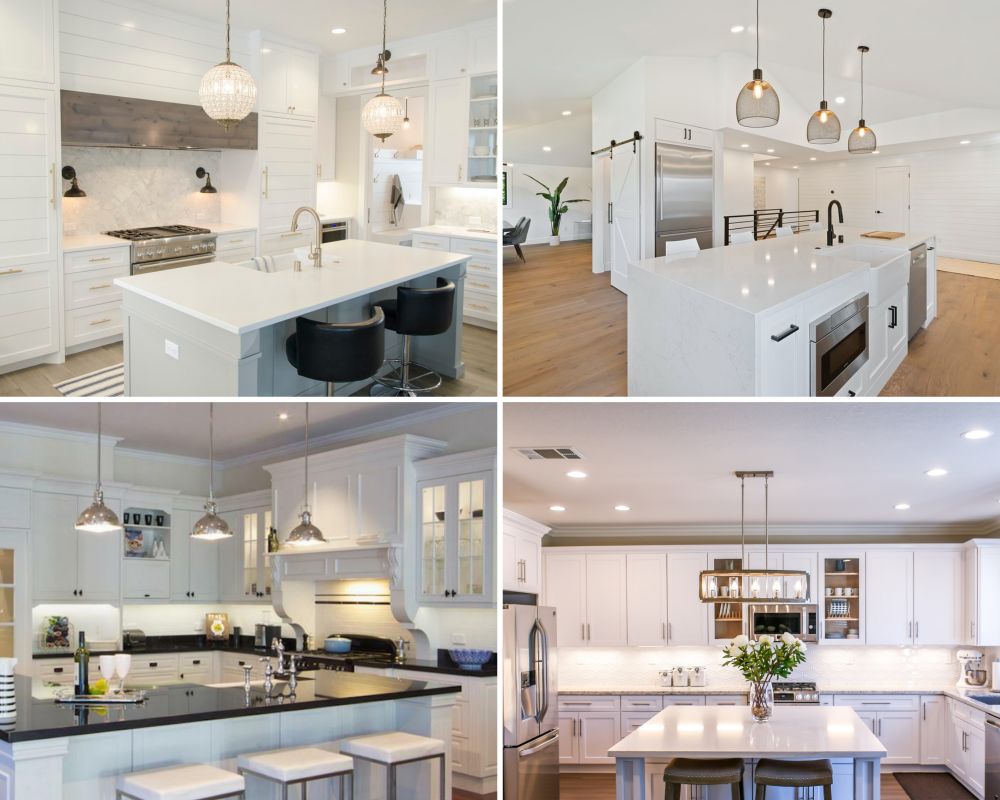 Mini Pendant Lights – These are small pendant lights usually no bigger than 8 – 10 inches in diameter. Mini pendants are excellent choices for small kitchen islands. Hanging several of these fixtures will look great as it mimics the look of a larger light fixture and will allow your eye to see past these fixtures beyond.
Linear Suspension & Multi-arm Pendant lights – These types of pendant are perfect for rectangular tables or kitchen island. They are so convenient that it does not only illuminate your kitchen island, but it also adds personality and appeal by serving as a focal point in your kitchen space.
Dome or Drum Pendant lights – dome or drum pendant lightings are an alternative to the mini pendants. You can hang these pendant lights in solo or in a group to achieve a more dramatic look for your kitchen space.
Material and style of the Kitchen Pendant – Depending on what you want to highlight in your kitchen, selecting the right material for your fixture can make a great impact on the overall style you want to achieve.
1. If you want your kitchen island to stand out from the rest of the kitchen, opt for a pendant light that has a distinct material, colour, or shape.
2. Choosing solid colored- fixtures with shades draws attention towards your kitchen island as it creates a bold and eye-catching characteristic.
3. If you want your space to have an open and more cohesive look, choose a pendant light where you can see through. Fixtures like open lantern style or have clear glass shades tend to look lighter in visual weight.
Installation – Though a lot of pendant lights come with a manual for installation, it is always recommended to hire a licensed electrician to do the electrical work in your home. This way, you can ensure safe and proper installation as well as early detection of possible faulty wirings.
The versatility of our kitchen spaces makes it one of the rooms in our home that deserves proper illumination. Whatever lighting you choose; it has to be ideal for a certain kitchen task.
At Zestlighting, our goal is to help you find the best lighting fixture that will suit your needs and style. We have a wide selection of pendant lights online to suit most applications and budgets.
Zest Lighting is an online lighting shop based in Sydney, Australia. We are an Australian owned business and ship Australia wide. If you have any questions, please don't hesitate to contact us.