Posted by Zest Lighting on 1st Mar 2021
What is a Pendant Light?
What excatly is a pendant light? A pendant is usually a single light that hangs down from the ceiling by either cord, rod or chain. They come in various designs, shapes and sizes. Depending on the space they're hung in, pendants can be installed individually or in a group of two or three or even more. When shopping for pendant lights, the style will probably be your first consideration. You can shop by shape, finish, and decor style to narrow down your option.
There are so many things to consider when choosing the best pendant light for your space. You can start by using the following guide to help you decide what fits your home and your personal style:
Pendant lights can add style and function to almost any room in your home. They're a popular option for kitchens or other rooms because they can do it all. They provide overall lighting for your living space, they can be a form of task lighting - illuminating work areas and countertops. And they can be mood or accent lighting especially when used with a wall dimmer. Therefore, before making any decisions you should know first the purpose of your lighting.
Consider the number of lights you want and how they are being configured. For example, you're lighting a kitchen island, would three pendant lights evenly installed work perfectly? Or would you consider a linear strip pendant light or a group of pendant lights clustered together as a feature? Think of how the configuration will change depending on the size and style of the pendant you choose. It's best to have some idea of the configuration you want before you choose the size, materials and style, so you can make sure they work best for your needs.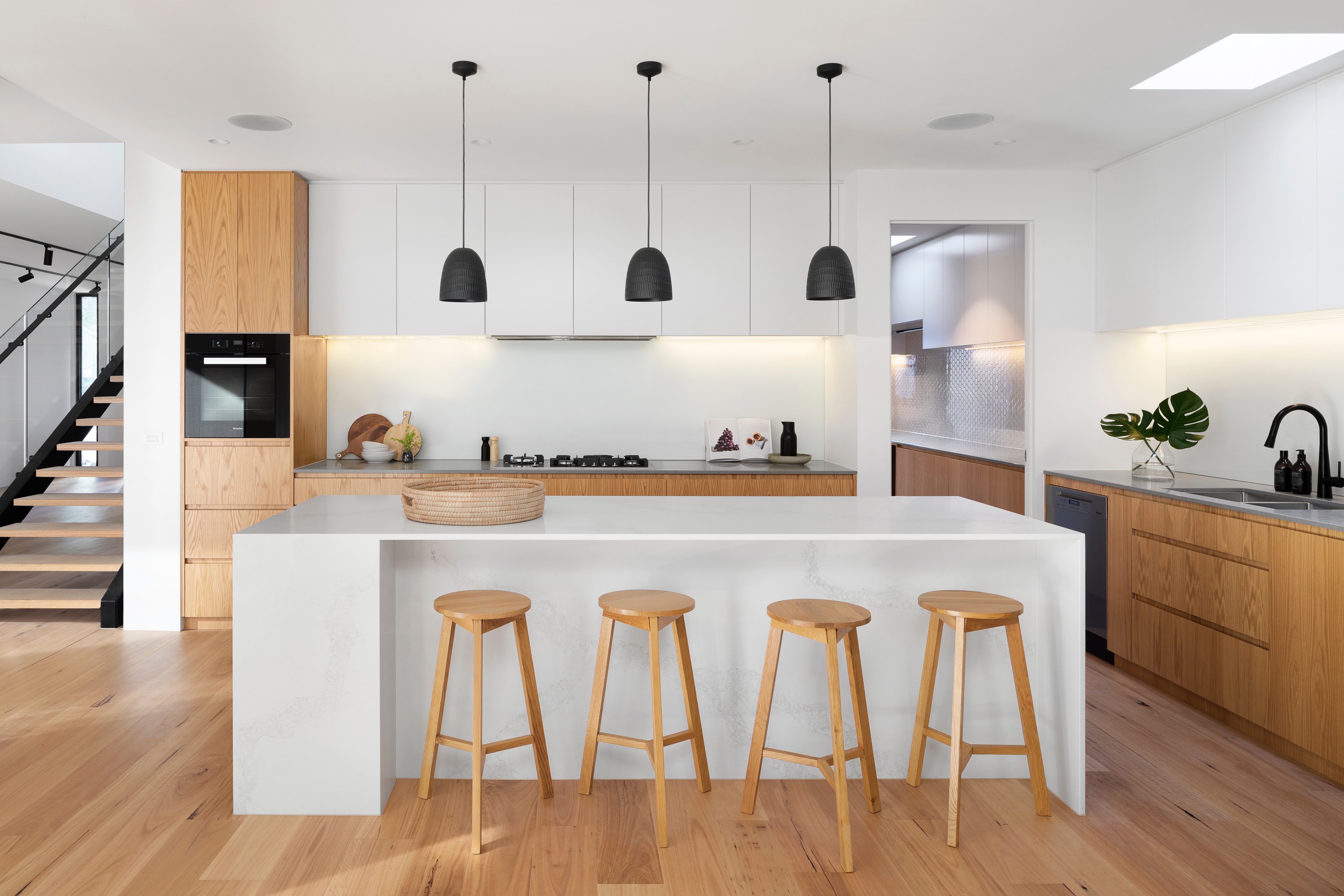 Photo by R Architecture
Once you know what look you're trying to achieve, it's time to determine the size of the pendant. There are three different size categories for pendants - mini, medium, and large. Mini pendants are small in design and measure no more than 25cm in diameter and are used in groups. Medium pendants are often used over kitchen islands and measure between 25cm to 50cm in diameter, while large pendants are more than 50cm in diameter and are often seen in large areas with high ceilings.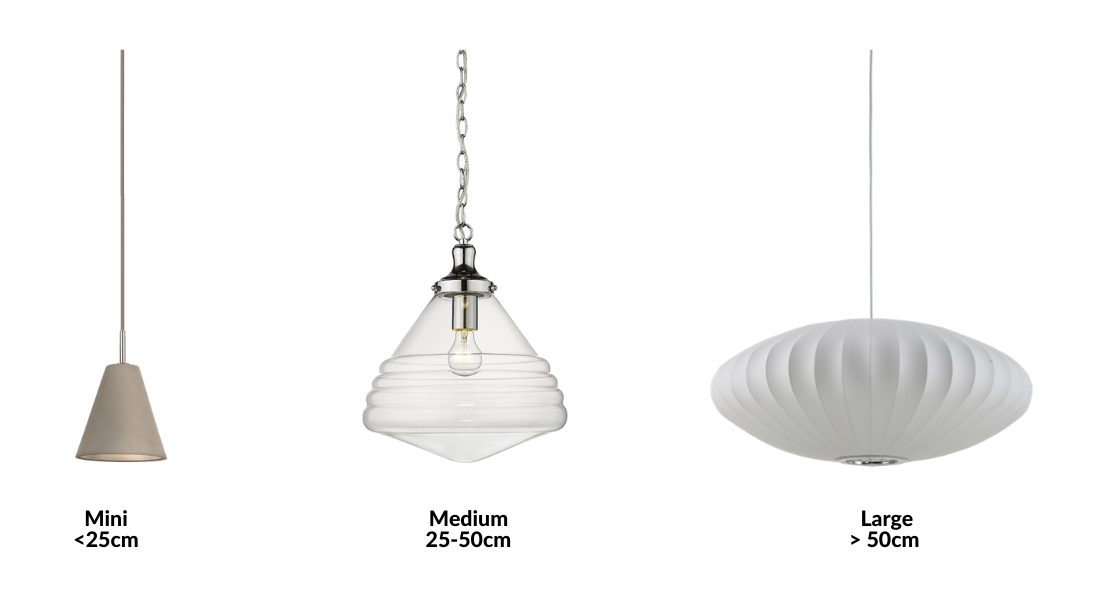 Another important step in choosing your light fixture is that you need to know the measurements of the space or area you are working with. Meaning, you need to know the ceiling height, the room size, and the height and length of any surfaces you are planning to light.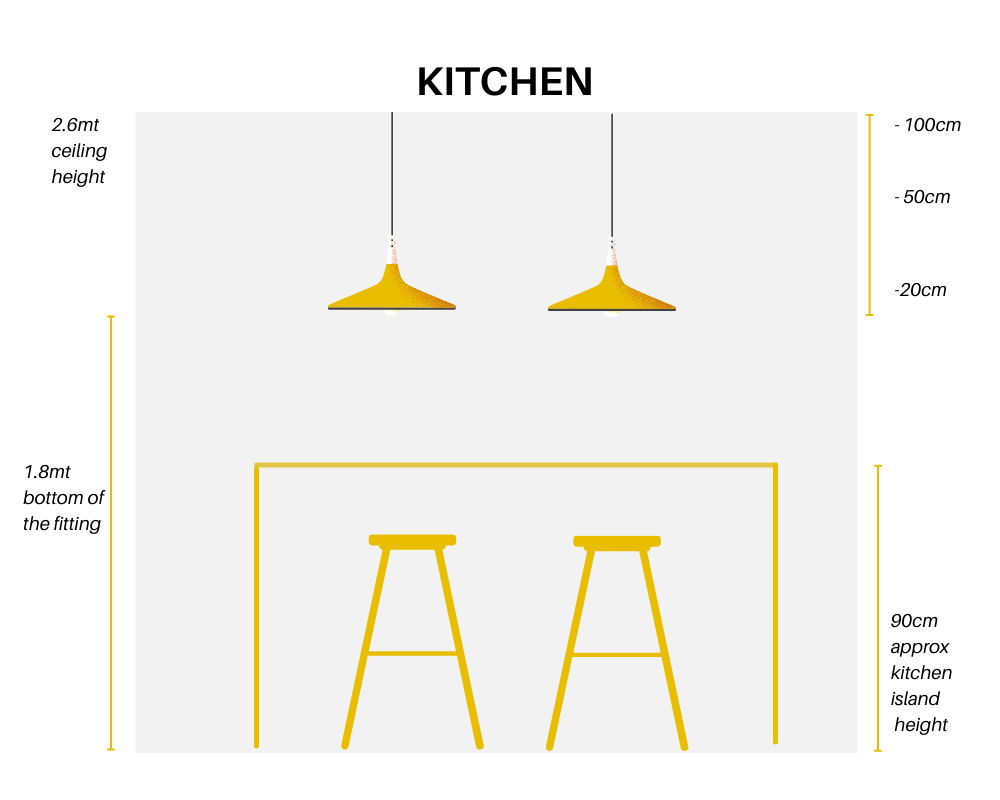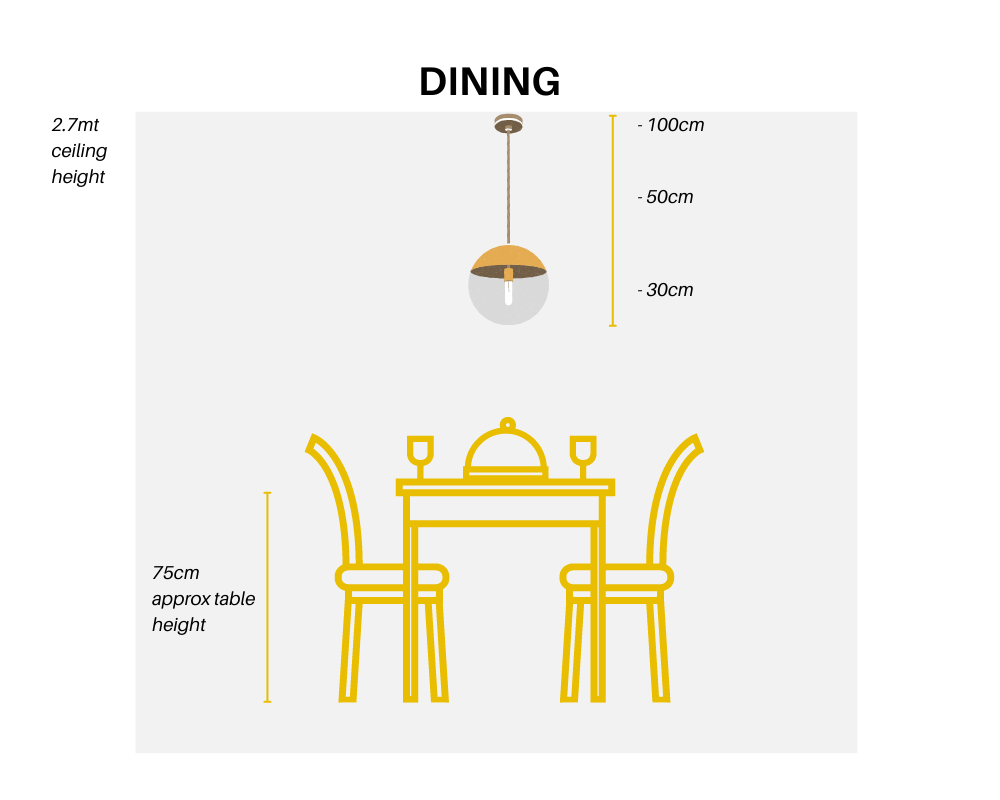 To get the right look, it is important to space the pendants correctly and hang them at a proper height. Grab your tape measure and get started. First, find the center of whatever pendants will be hanging above, like an island bar, dining table, or sink. That will be your reference point for positioning the lights. As a hanging height guide, leave 81-86cm from the bottom of the pendant to the tabletop. Over a counter area, you can go higher, say up to 122cm, but remember you don't want to hang the pendants so low that they obstruct your view or cause you to look directly into a light bulb. Your final hang height will depend on your space and the pendant design.
The light direction of the pendant light can also have an impact on the brightness of the space. Each pendant offers different looks and the direction the light falls on the space will depend largely on the shape and design of the pendant.
Ambient lighting offers light that illuminates a larger space. These pendants cast light in all directions, rather than directing it up or down, and don't have a particular focus.
Up lighting is one way to provide ambient light in your living space. The design of the pendant aims to provide light in an upward direction onto the wall or ceiling at a bright enough level that it reflects into the room around it.
Down lighting is best for illuminating bench tops or kitchen islands, acting as a spotlight of bright light for the tasks that are set below it. The light is focused on a particular subject or task, drawing attention to it.
This is the most exciting part, choosing the style and materials and often the step that people often jump into first. Pendant lighting shades come in many shapes and sizes, but most will be made of either glass, metal, plastic, or fabric. Wood, rattan, or concrete, can also be popular materials for pendant light. If you're looking for luxury and glamour you can opt for crystal pendants. You must also consider the theme of the space you're working at when choosing the material and style of the pendant light.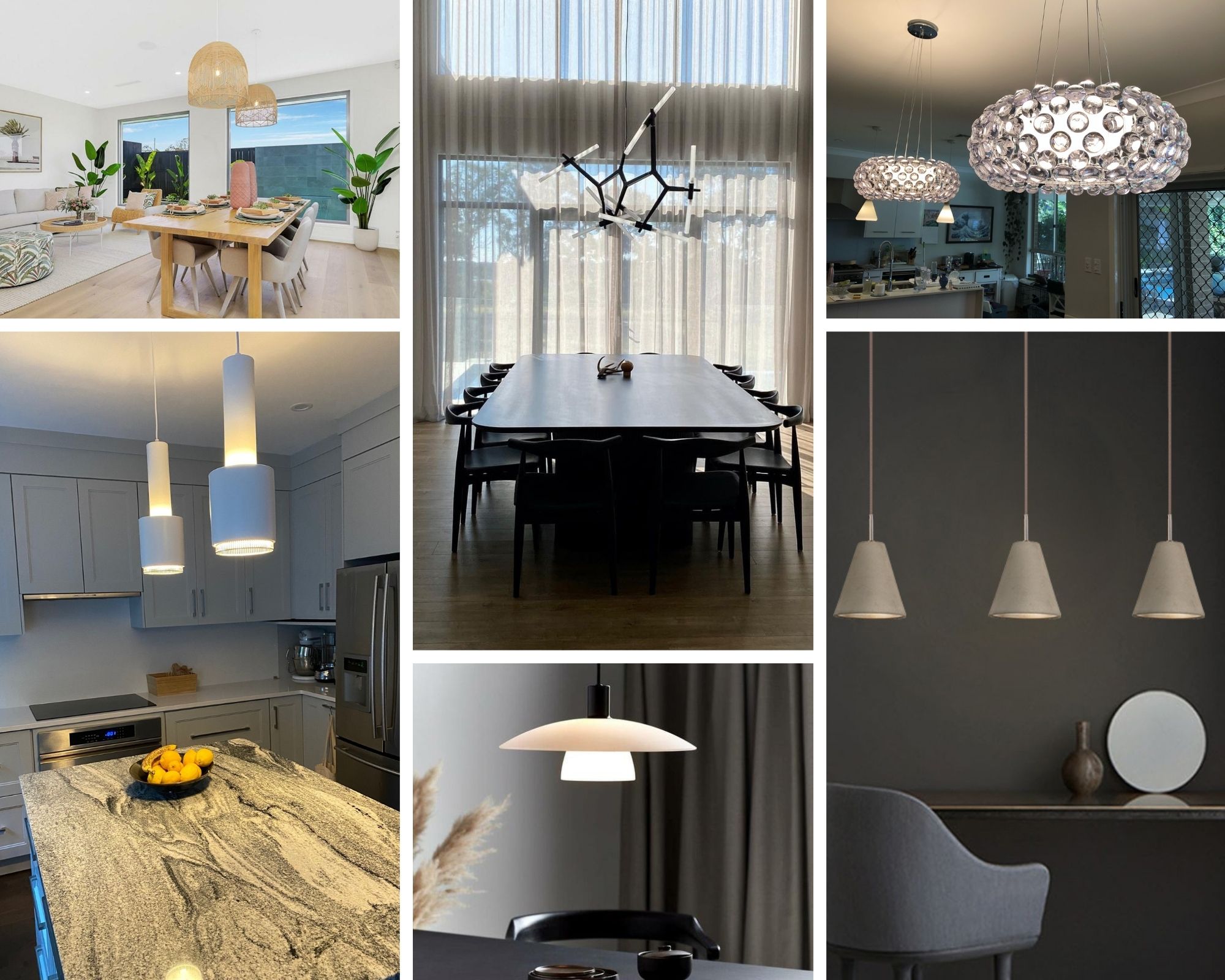 The last thing you need to consider in finding the perfect pendant light is the installation requirements. Most pendants come with canopy and are installed directly into the ceiling. They are independently mounted and can be plugged into an existing ceiling light junction box. Some pendant lights will require different kinds of accessories at the time of purchase, so it's important to pay attention to what is the existing setup in your home that will help you plan out any necessary changes.
Zest Lighting has a large range of the best designs in lighting in one place. Our design enthusiasts meticulously hand pick and approve each design to ensure a large but curated collection that fits our customers high standards in style. Our range spans from iconic pieces of past eras to the contemporary designs of today - there's something here for everyone.