Posted by Zest Lighting on 4th Mar 2021
Bedrooms are personal sanctuary where you get to relax, get dressed, sleep and unwind. Just like any room, it is equally important to realize that lighting can make a huge difference when it comes to setting the right mood for your bedroom.
Having a pendant light gives you an easy way to add your personal style to your room. Pendant lights are so versatile that they do not only provide light for reading and relaxing, but it also serves as a good alternative to table lamps for bedside lighting.
While pendant lights vary in shape, size, and style, finding the right fixture for your bedside can be quite challenging. To help you narrow down your choices, we've listed the key principles in choosing the best pendant light for your bedroom.
Consider the scale and proportion of your bedroom – When it comes to sourcing a pendant light for your room, you need to understand that the size of your space and ceiling height matter. Choose a pendant light that will look proportion in relation to the size of your bed and the nightstand below it. Ideally, your pendant lights should be slightly narrower than the width of the bedside.
Pendant light size- Choosing the right size pendant is important to the overall look of your bedside. Opt for a pendant light that is neither too big that it looks overpowering nor too small that it no longer provides enough lighting to your bedroom.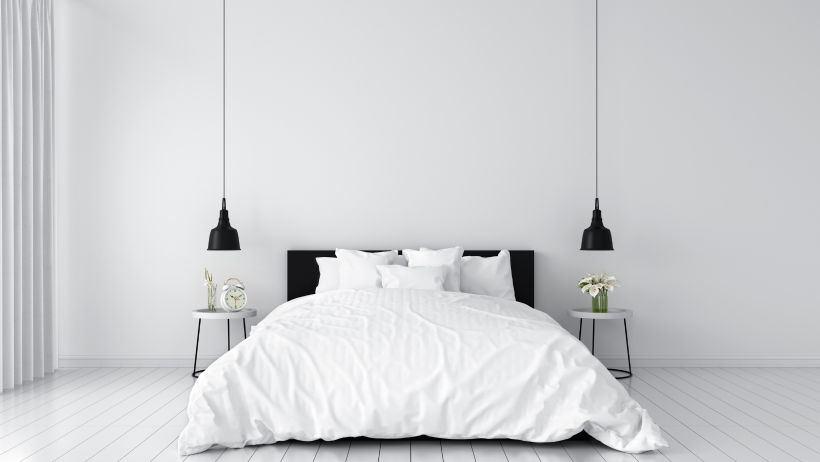 Consider the height of your ceiling – With the same respect to the scale and proportion of your bedroom, your ceiling height also plays an important role in selecting the right bedside lighting fixture. Bedside pendant lights are best installed in rooms with a ceiling height of at least nine feet. When you hang a pendant light on your bedside, the lowest point of your pendant light should be between 30 and 33 inches from the top of the nightstand.
Decide on how bright you want your room to be - Deciding how much brightness of the room will affect your selection. You can choose a colour temperature for your pendant light according to how bright you want your room to be. Your lighting fixture can be warm, neutral, or cool. Warm light makes the best option for bedrooms since it makes spaces seem cozier and more relaxing.
Style and feature – Choose a pendant light that matches the style and interior of your bedroom.You can add your own style and preference to reflect your personality to the room. Be it minimalism, Scandinavian or contemporary, you can always choose a pendant light that will suit your style and taste.
Installation – to save yourself from the hassle of installing your pendant light yourself, we always recommend seeking for the assistance of a licensed electrician. In addition to ensuring a safe and effective installation, hiring an electrician guarantees proper wiring.
Bedrooms are all about creating an atmosphere. Though choosing a pendant light can be quite a tedious task, keeping all these considerations in mind will help you pick the right piece and reinforce your style to your bedroom. At Zest Lighting, we have a wide array of pendant lights to choose from.
Zest Lighting is an online lighting shop based in Sydney, Australia. We are an Australian owned business and ship Australia wide. If you have any questions, please don't hesitate to contact us.