Posted by Zest Lighting on 17th Feb 2021
Ceiling fans are a great way to add personality and function to your living area. It makes any room more inviting and comfortable because it distributes air more evenly and cools down living spaces while serving as a light fixture to enhance your interior.
A good ceiling fan can make a great difference in the convenience and energy efficiency of your home. They come in a variety of shapes and sizes so choosing the right fixture is essential to ensure that they functionally and aesthetically suit your style.
If you're on a hunt for the best ceiling fans, then we can help you find them. Here are some considerations in finding a suitable ceiling fan for you.
1. Consider the location - Figure out where you want to put it. Is the fan for indoor or outdoor use? While most of the fans can be used for indoor applications, you can also put fans outside like on a porch or a damp location like a pergola, or even on a wet location where it might get rained on. Ceiling fans rated for damp conditions can be used in bathrooms, carports, or anywhere that may have moisture but no direct contact with water or the elements. So, it is important to make sure it gets rated for that application.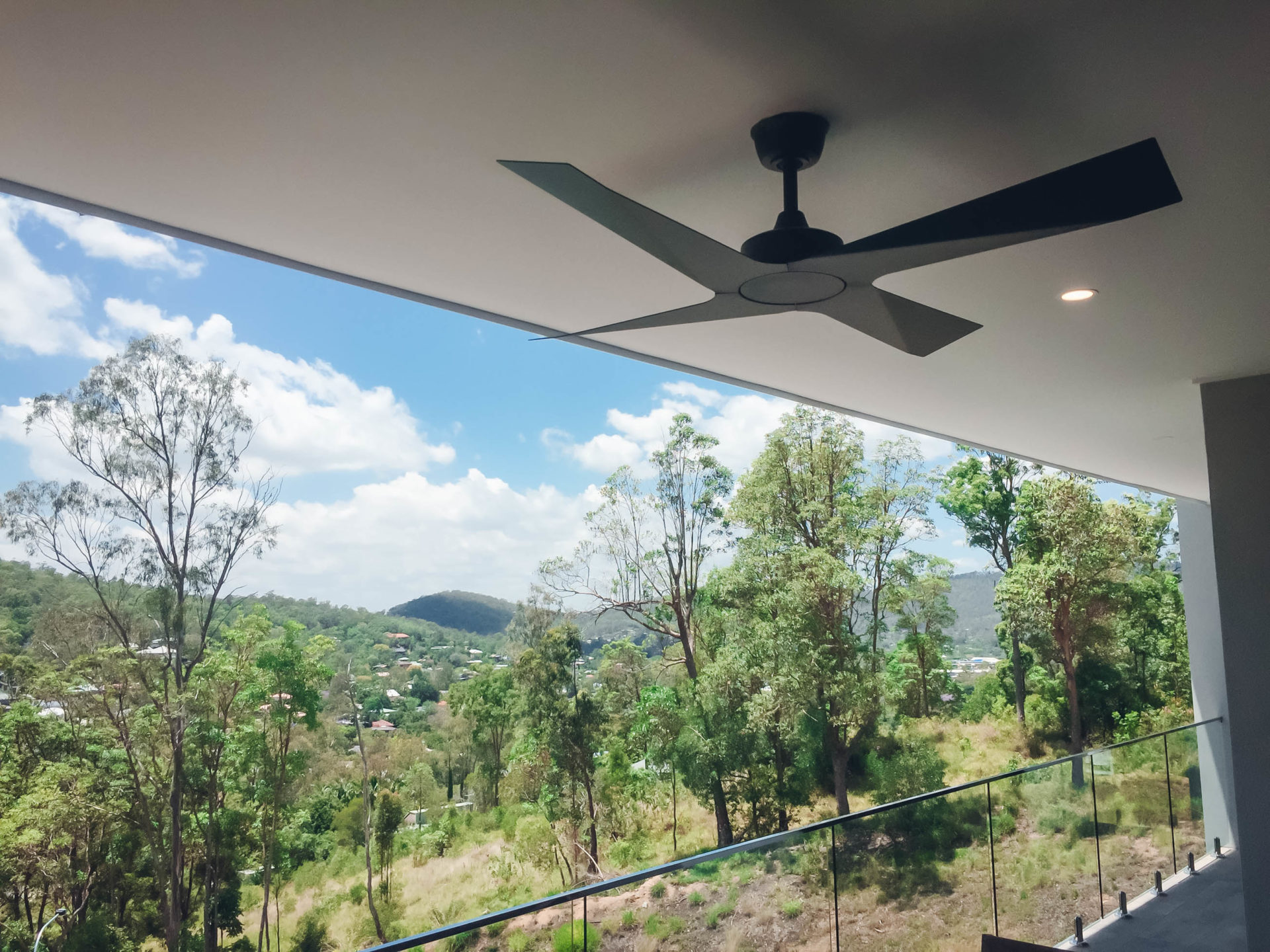 2. Size of the room – Ideally, the bigger the room, the bigger the fan should be. To select the right ceiling fan, you should determine your room size. To measure your room, take the length and multiply by the width, this is the room size also known as the square footage. With the square footage on hand, you can now pick the right fan size.
3. Ceiling fan downrods and mounting type - When selecting your mounting style, you should first determine your ceiling height. To get this, measure from the highest point of the ceiling to the floor. Ideally, mount standard blades should be at least 7 feet from the floor and metal blades at least 10 feet from the floor.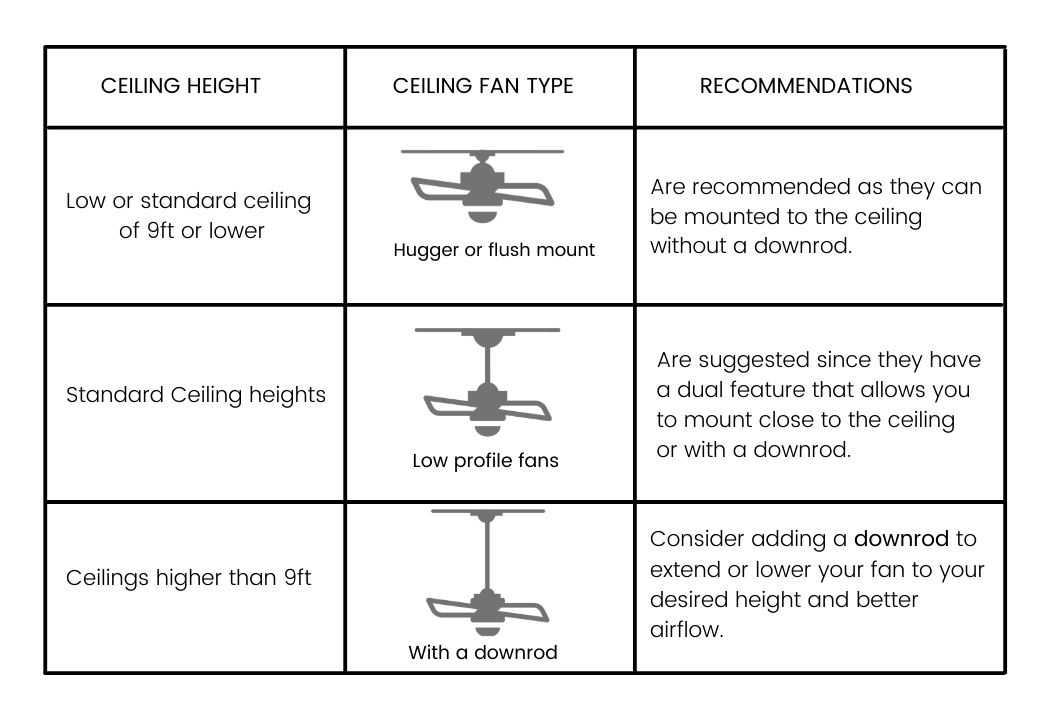 4. Ceiling fan controls – Some of the fans have really great switches that let you reverse the fan, set your speed, set your lighting, all in one switch. There are three types of controls for the ceiling fans: The pull chain, remote control, and wall control.
Pull chain - this is located right on the fan. Since most of the fans have a 3-speed control setting, this enables you to choose your preferred speed by pulling the chain repeatedly.
Remote control – Most convenient way of controlling the fan as it can be operated from anywhere in the room.
Wall Switch – Normally installed right next to the doorway. This will enable you to separately control the fan speed and turn it off and on from the wall.

5. Ceiling Fan accessories – Ceiling fan accessories help you modify or enhance your fan according to your needs.
Downrods – is an extension pipe that can lower your ceiling fan to the optimal height. Some ceiling fans come with a downrod. If yours don't come with one, you may purchase them separately in a variety of sizes and colors.
Light Kits – Many ceiling fans can be modified and installed with a light kit. You may need to check the fan specifications to see if the fan is compatible with a light kit in case you want to add one in the future.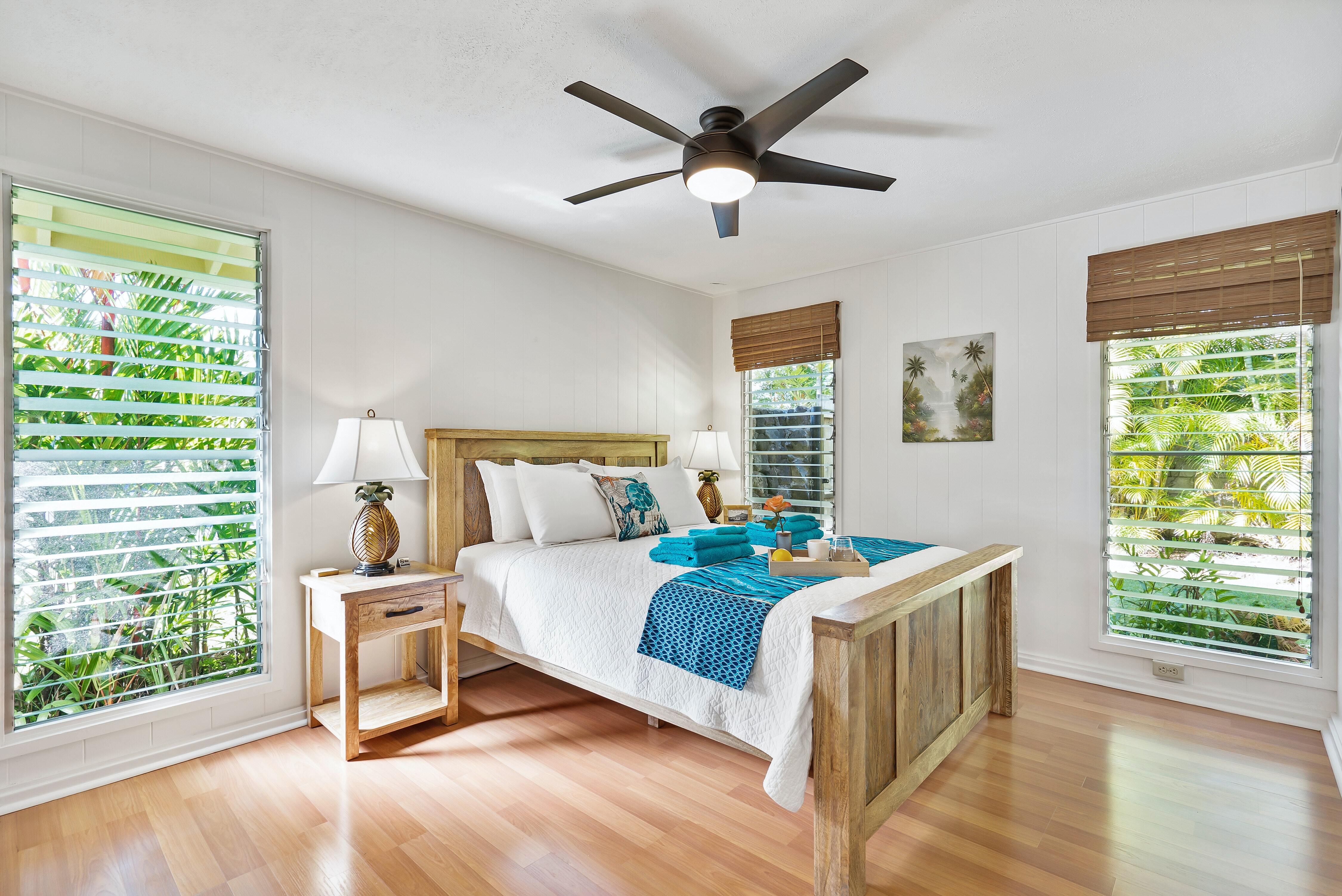 Photo by Jason Boyd
6. Installing your ceiling fans – Although your ceiling fans product comes with a manual for installations, it is best to still seek assistance from a licensed electrician or one who specializes in fan installations. This way, the fan specialist would be able to identify problems like motor noise, wobbling, or wiring concerns.
At Zest lighting, we have a wide array of fans to choose from. Browse our selection, find styles that perfectly suit your interior. Create an inviting atmosphere for your family and friends.