Posted by Zest Lighting on 21st Sep 2020
We used to associate gold colour and gilding exclusively with luxury, wealth and even some pretentiousness. It seems that the shine of this metal will be appropriate only in medieval or, at most, classical interiors; in extreme cases – in Moroccan or colonial. But if you think more broadly, it becomes clear that gilding can also bring special warmth and comfort to the interior, and to be present in modern design.
With the help of this shade, it's easy to give the design a certain sophistication, bohemianism and solemnity, and this, in turn, fits into the concept of almost any stylistic trend.
In this post, we'll share with you our top 5 gold pendant lights. These fittings are a staple in our designer pendant lighting catalogue. Bring out the style and your personality by decorating your home with gold pendant lights.
Modern Dome Rugged Gold 3 Light Pendant Light

Contemporary lighting design for any space and application Dome shaped shade with a beautiful rugged gold exterior gold interior. Made of meta inl 70cm diameter x 38cm height. Ignite your interiors with this bold and beautiful pendant light.
Replica Raimond Puts Suspension Light
It is a perfect sphere of mathematical proportions that bursts alive with tiny LED lights. The result is a beautiful contemporary feature piece that emits the alluring delicate glow of a starry night. Looks amazing on its own or in a set with varied heights and sizes - versatile and stylish.
Lustre Glass Ball Stone Effect Pendant Light - Gold
Hand-blown into a traditional ball shape, the Lustre has a stone effect through the glass giving it a wonderful organic texture, while the lustre of the glass finishes it into an elegant light. Also available in teardrop and flagon shapes.
Its unique spherical design made of irregular pentagons creates a theatrical display of shadows when lit. A suave and stylish pendant light for trendy spaces. Crafted from high quality stainless steel metal with a polished reflective.exterior for a jewel like design.
A dynamic feature piece that will light up any space with style. Admirers of uber chic contemporary spaces will marvel at the aura produced by this iconic designer light. Crafted from a combination of glass and carbon steel, which lends to its highly reflective surface. Available in four different sizes - 25dia cm, 30dia cm, 35dia cm and 40dia cm. Mix, match and arrange and different sizes and heights to create a stunning spectacle.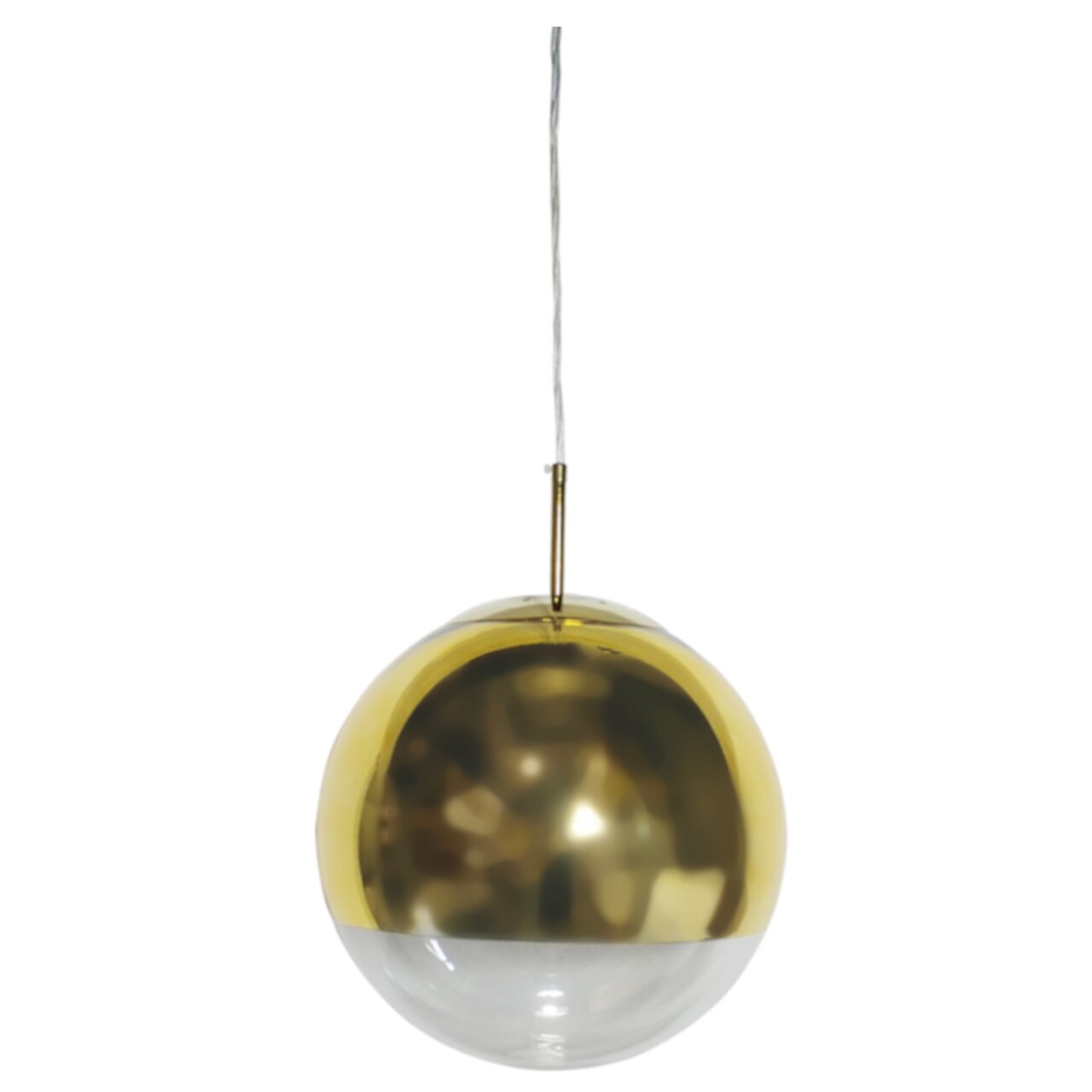 If the above top picks don't suit your needs, we welcome you to browse and shop all of our gold pendant lights available at Zest Lighting. We have a large selection of pendant lights online to suit most applications and budgets.
Zest Lighting is an online lighting shop based in Sydney, Australia. We are an Australian owned business and ship Australia wide. If you have any questions, please don't hesitate to contact us.