Posted by Zest Lighting on 17th Sep 2020
Cluster pendant lights are, as the name suggests, a cluster of pendants. Cluster pendants allow you to create a spectacular feature in your home while achieving a beautiful, ambient lighting. If you're not up for mixing and matching pendant lights, the ones that are already clustered are perfect for you.
The versatility of cluster pendants and their variety of styles means you can use them around your home in many different ways. That's why a cluster lamp with pendants is both a functional and beautiful addition to your home.
These 5 cluster pendants are what we usually recommend when the customer is looking for a cluster of lights to hang over in their living room or a particular spot in their home or office.
Replica Bocci 14.5 LED Pendant Chandelier

Our replica 14.5 pendant chandelier is a stunning piece of illuminated art that is notable for its distinct bubbles within a beautifully plated glass. The fitting spreads warm and comfortable lighting throughout the room with style and is best used in a series with each light being set at different heights - this will invite your audience into a dream that is filled with a surreal sea of light balls in the sky. If you like more balls hung in clusters, it's also available in various configurations - 14.7, 14.10, 14.14 and 14.26.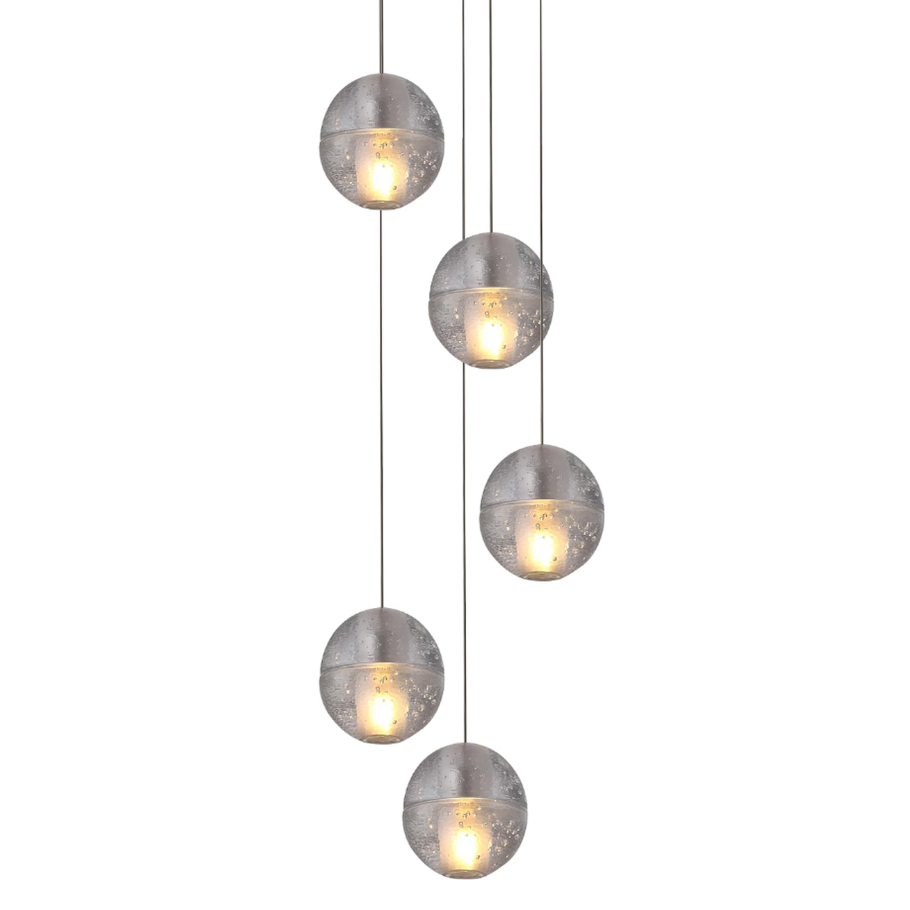 Replica Sandra Lidner Selene Pendant Lamp

Pendant lights when grouped together, creates an impactful display of modern lighting. A simple masterpiece conceived by the brilliant mind of the minimalist designer Sandra Lidner of the Classicon design house. Illuminated by light which is surrounded by transparent glass and is best used in a set or series hung at different heights. Available in several sizes to suit your spacing.
Constellation Black Perforated Cluster Pendant Light

A cascading cluster of delicately perforated lozenge shaped white, black or nickel shades. Each lozenge measures 15cm in diameter and 20cm in height, finished in matt black.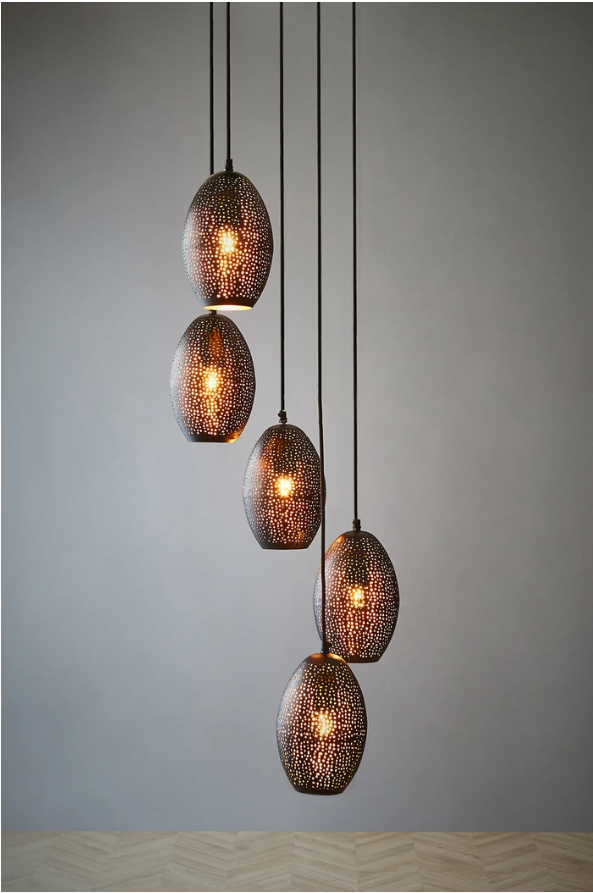 Bubble Glass 9 Light CLuster Spiral Pendant Chandelier

Stunning bubble glass shades in spiral formation. Visually subtle and not meant to dominate a room - instead, they are designed for clustering, gaining tremendous visual strength when multiplied. Also available in 4 and 6 light configurations.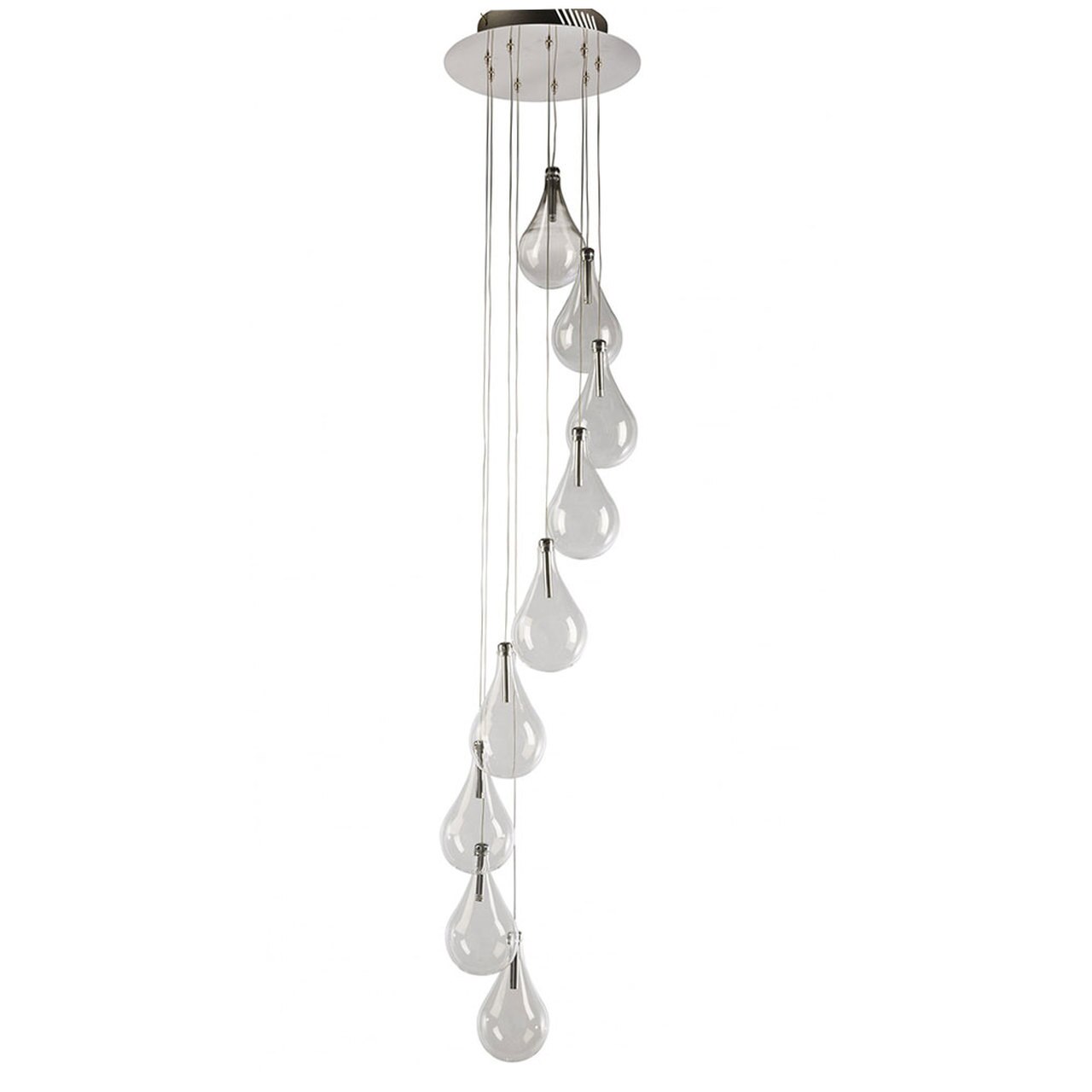 Replica Ilde Max 19 Light Cluster Pendant Chandelier

The focus of its simple design is on the beauty, simplicity and intricacy of the bulb in a cluster. Its metal ring can be loosened or tightened to create your desired look and purpose. When illuminated, this decorative designer pendant light will ignite your home or business to life.
Besides our range of cluster pendants, you can, of course, put together your own cluster lamp with pendants you find suitable for your home and your requirements. With our large and varied selection of canopies you can choose among many types of canopies in different shapes and sizes, accommodating everything from one lamp up to 36 lamps. So you can create your own personal cluster pendant using our many beautiful pendants.
Zest Lighting is an online lighting shop based in Sydney, Australia. We are an Australian owned business and ship Australia wide. If you have any questions, please don't hesitate to contact us.